Welcome to GudGear!
We're Bryan and Dena, and we LOVE to be outdoors. Join us as we share the best tips and resources for your next outdoor adventure!
On GudGear, you'll learn outdoor skills like navigation, making campfires, avoiding ticks and bears, and managing water while hiking.
Plus, discover the best camping gear and much more.
Why Trust Gud Gear?
Bryan and Dena have been camping since they were kids.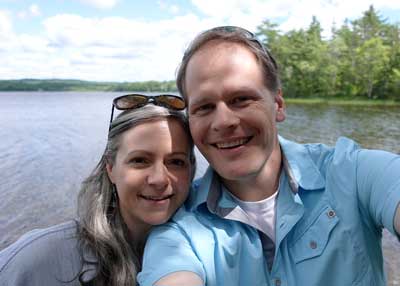 And over the years, they've owned and rented RVs and gone camping in tents and hammocks countless times. They've also traveled within Canada and much of Ecuador, where they lived for six years.
Gud Gear has been featured (or mentioned) in many notable publications. These include Motor Biscuit, Buzzfeed, The Dyrt, University of Illinois, The Wandering RV, Campark, and Research Gate.
Outdoor Skills
Make your next outdoor adventure a little smoother with these tips and skills.
Learn how to set up a tent (in the rain), have safe water, and start a great campfire. You'll also learn how to cook on a campfire, avoid ticks and bears, and even use a compass.
RV Living
Traveling in an RV is one of the best ways to see the country.
Learn basic and advanced skills for traveling in an RV. Whether you're going for a weekend or a year, these skills will make things go smoother.
Winter Camping
Don't let the cold weather keep you inside. In these winter camping guides, you'll learn how to stay warm, safe, and happy in the great (cold) outdoors.
Topics include winter camping in hammocks, tents, making a winter campfire, insulating a tent, and the best winter camping tents.
Campfire Fun
The campfire is the center of every camping trip. In this guide, you'll learn how to make the best campfire (6 methods), how to cook on it, make coffee, s'mores, and some fun games and campfire songs.
Camping Gear
You'll need some gear if you're heading out on a camping trip. Here is our selection of the best gear for outdoor adventures.
Learn about the best tents, tarps, cooking gear, and camping hammocks. Discover our picks for the best hiking shoes, clothes, and survival tools.
Check out our recent posts and all our outdoor guides and tutorials.