Hiking in wet conditions takes a toll on your feet. Choosing the best shoes for hiking in water can make the difference between a successful hike or one that you might suffer through every step.
Each of the water hiking shoes in this post will keep your feet healthy. We include both waterproof and amphibious shoes for wet conditions.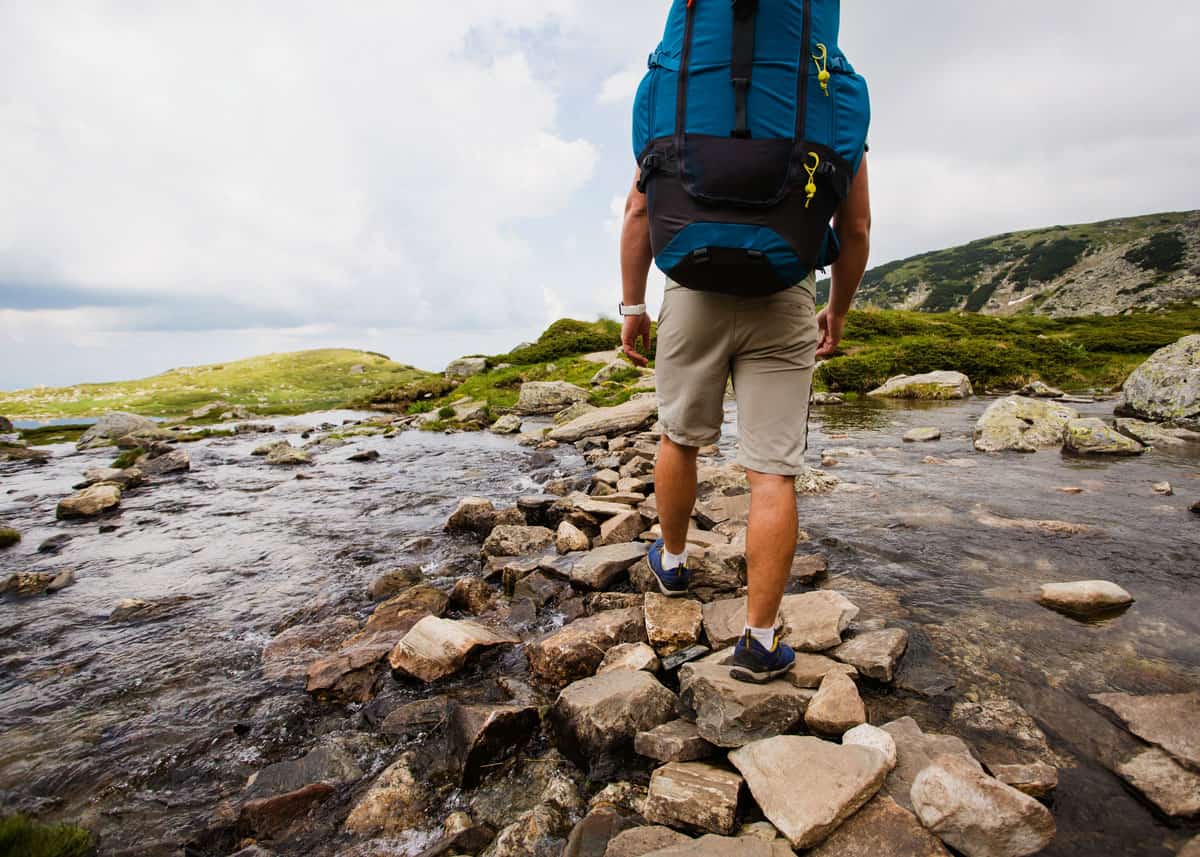 Whether you are looking for completely waterproof shoes, water-resistant shoes, or breathable shoes, you will find the perfect footwear for you on this list.
Best Water Hiking Shoes: Guide to Dry and Healthy Feet
Are you looking for some shoes you can get wet on your next hiking adventure? Do you want to keep your feet dry when you hike through snow melt? Are you unsure how to go about choosing the best shoes for hiking in water?
Don't worry. This is your complete guide to dry and healthy feet when hiking through water.
First, you will get a quick tutorial on how to pick the right hiking shoe for your individual needs. Once you know what you want, you'll be ready to see the list of the 14 best shoes for hiking in water. By the end of this guide, you will be able to identify the perfect shoe for you!
There are five main sections to this guide:
How to pick the right water hiking shoe
Trail running shoes
Low-top hiking shoes
Amphibious shoes
Canyoneering Shoes
This is a pretty big guide. If you're just looking for our top recommendation, I've put together this quick guide. Here are our top picks for the best men's and women's hiking shoes for wet conditions:
---
Our Top Pick: Trail Running Shoes (Men and Women)
The Merrell Moab 2 is a waterproof hiking shoe that comes in both men's and women's.
The sole features a Vibram grip – to help prevent slips on wet rocks on the trail.
Check Merrell Moab 2 price in Men's or Women's
This is one of the best-rated hiking shoes available – and it's little wonder. Dry feet and a stable grip are the two basics of hiking in wet conditions.
---
Our Top Pick: Amphibious Hiking Shoes (Men and Women)
These hikers are a combination of hiking shoes and sports sandals – and are perfect for hiking in wet conditions.
Check current price on Amazon: Men's or Women's
The open sides allow water to flow out – and are small enough to keep debris from getting in. The material naturally sheds water – allowing your feet to dry quickly after being submerged. Great for wet and dry conditions.
Read more: 13 Thru Hiking Tips for Beginners
Guide to Buying Shoes for Hiking in Water (8 Factors)
First, it is important to know why you need special hiking shoes to keep your feet dry and healthy. Hiking shoes that are not made for water wear will break down much faster if you get them wet. This is caused by getting materials wet that aren't meant to be.
There is a chance your shoes will even grow mold or mildew inside, resulting in a smelly, unhealthy environment on your feet. However, shoes specifically made for water wear are created from materials made to get wet and dry fast.
Also, water hiking shoes tend to include antimicrobial treatment that will kill any lingering fungus to protect your feet. If you want healthy feet and long-lasting shoes, check out the following factors for a comfortable wet hike.
1. Antimicrobials
It is no secret that the bottom of feet are gross. Multiply that with sweat and a moist environment, and you have a recipe for unhealthy feet.
Add a shoe that doesn't breath, and anything growing down there will get a boost! Then, imagine adding the extra wetness of a heavy, water-filled shoe. Especially one that does not dry quickly.
Although you can minimize your chances of unhealthy feet by choosing waterproof and breathable footwear, you can buy a hiking shoe that does more.
For the healthiest feet, choose shoes that include antimicrobials. These will stave off the bacteria and fungus before they even have a chance to grow. Not only will your feet be healthier, they won't smell!
2. Laces
There are two general kinds of hiking shoelaces. The first is your traditional tie. Unfortunately, this type of lace doesn't do so well when wet.
The second kind of lace is better if you want the best shoes for hiking in water. It is a single pull lace system. That means there is one lace, and a button you push to tighten as you pull the lace.
However, fit will be the same tightness across your entire foot. You can't simply tighten just one or two sections of lace. No matter what lacing system you choose, make sure you pick a shoe that fits your foot well when tightened.
3. Grip
When looking for the best shoes for hiking in water, you must consider slipping and falling. That's why having a proper grip on the bottom of your hiking shoes is extremely important.
Almost all hiking areas with a water feature will include some sort of slick surface. Whether that be the rocks at the bottom of a stream, or leftover leaves wet from the trickle of snowmelt.
Even if it is only sprinkling outside, that could be enough to make a normally stable hike trickier. If you don't want to fall while you are hiking in or through water, make sure your shoes have a decent grip.
Typically, Vibram is the most popular grip put onto the bottom of water-safe hiking shoes. I have Vibram grip on 3 pairs of hiking shoes and my winter boots. They are exceptional.
4. Weight
It used to be that the best hiking shoes were boots, heavy and slow-drying. Hikers and manufacturers alike realized there had to be a better way to create a quality hiking shoe meant for getting wet.
That is why the best shoes for hiking in water today are made of much lighter materials. Tough but thin is what is in!
Remember, the lighter the waterproof shoe is dry, the lighter it will be wet. You don't need that extra weight on your hike! That goes double if you are backpacking.
Even if you aren't, the added weight could throw off your balance or cause you to get tired early. That is why choosing a lightweight shoe is important. In addition, the lighter the shoe, the more ground you will cover in a faster amount of time.
5. Protection
How much protection you will need depends on how often you plan on hiking through areas with rocks and other debris. This goes double when hiking through water because you often cannot see what is at the bottom.
If you are going to trek through water such as this, you are going to want protection, especially on the bottom and the toe box. The bottom of your shoe is where the foot makes contact with the ground.
If you can't see what is underneath, you have the potential of stepping on something sharp such as an upright tree branch or jagged rocks. If your plan is to hike through a lot of water, you are going to need a medium-stiff midsole for this purpose.
Protection is especially important for your toes. If your hiking shoe does not offer adequate toe protection, you could end up with a broken toe at worst. Or a stubbed toe at best. Usually the best shoes for hiking in water will feature a large rubber toe box.
6. Waterproofing
Some waterproof shoes offer a breathable membrane to help keep you dry. This is nice for your foot, but adds extra weight.
You will have to consider the pros of breathability with the cons of weight for your specific wants. Some shoes are leather and are simply waterproof by material design. These are a bit heavier as well, but will be completely waterproof.
Full Gore-Tex designs are another option. These are lighter than leather, and they will keep the water out. However, they are not as breathable in hot and humid conditions.
7. Breathability
In the same way waterproof garments do not breathe as well as non-waterproof clothing, neither will your waterproof shoes breathe as well as your non-waterproof shoes. Waterproofing decreases breathability by nature.
If you are more interested in having your feet dry after the water walking, you should go for breathability over waterproofing. You want the shoe to allow in air, and wick the moisture away from your feet.
Breathable shoes that are the best for hiking in water feature more mesh and thin fabrics. These will dry out quickly when they are soggy. In addition, they will keep your feet dry if you want to use them in hot or humid weather hiking.
Hiking shoes that are breathable will sometimes come with a polyurethane (PU) coating. The PU finish will cause water on the top to bead and slide down the shoe.
This kind of waterproofing works best in rain or wet grass. The key is to not submerge your whole shoe in the water. PU coating is seen the most on trail running shoes.
8. Upper
The top part of your shoe is typically made of two or three of the following: synthetic nylon, mesh, and leather. There are pros and cons to each of these materials used to make the best shoes for hiking in water.
Synthetic nylon is typically used in conjunction with mesh panels. These panels are the most breathable areas and the lightest. The nylon is also light and breathable.
The only downside is that both of these materials are not very durable. However, the tighter the synthetic material is woven, the stronger it will be.
Nubuck leather is another material used for the upper level of shoes. It is made of full-grain leather, meaning it has all of the waterproof properties of leather. However, it is brushed in such a way that makes it look and feel like suede.
The brushing also makes it more flexible as well as durable. Typically, this kind of material is heavier and will make the shoe weigh a bit more. The leather also resists tears.
For all these reasons, nubuck leather is usually combined with synthetic nylon and mesh. This makes for a lighter, better quality, breathable shoe.
---
6 Best Shoes for Hiking in Water
The 6 best shoes for hiking can be split up into 4 major categories. These are trail running shoes, low-top hiking shoes, amphibious shoes, and canyoneering shoes.
Each has its own pros and cons, so carefully consider what you want out of a hiking shoe. Do you want breathability? Is complete waterproofing important? Will you mostly be encountering rain, or walking through streams?
These are all things to consider when looking through this list of the best shoes for hiking in water.
---
Trail Running Shoes (For Water)
Trail running shoes are lightweight, durable, and offer a barefoot feel on the trails. Whether or not you actually plan on running, trail running shoes with PU is a great investment for anyone looking to get their feet a little wet.
You should look for a sock-like fit, grip, protection, and weight. The closer fit will ensure you get the best reading of the ground for your next stride. Grip is also important, especially if you are running, and especially if you are running on wet surfaces.
Also important is protection. Even if you aren't running, you want there to be enough cushioning from the rocks and other debris on the trail. Finally, weight is important, because you don't want to be held down by anything.
Trail running shoes focus more on lightness, so they are not as waterproof. However, they dry quickly. This is perfect for rainy or warmer conditions. However, if you are backpacking and need more support, this isn't the shoe for you.
1. Salomon Speedcross 4 (Men's or Women's)
The Salomon Speedcross 4 is an excellent trail running shoe. In fact, Salomon is a reputable brand known for some of the best shoes for hiking in water. Available for both men and women, this is the go to shoe for thousands of hikers around the world.
Check current price on Amazon: Men's or Women's
The outside of the footwear is made with Anti-Debris Mesh, meaning the mesh is stronger than usually found in trail running shoes. The whole upper of the hiking footwear is water resistant due to the material.
This is great for runs in the mud, puddles, and morning rains. Unfortunately, the extra waterproofing does add weight. The grip of the sole is aggressive for those slick woodland surfaces. As is common for trail running shoes, there is a little cushion for protection.
However, the Speedcross 4 does have extra rubber protecting the toes.
---
Low Top Hiking Shoes (For Water)
Although not boxy, low top hiking shoes are generally heavier than trail running shoes. They focus more on offering support as well as comfort. They have more cushioning under the parts of your feet that need it the most.
They are also one of the best shoes for hiking in wet conditions. Additionally, this type of footwear offers more rubber protection from jamming your toes. And low top hiking shoes are waterproof.
If you are hiking in water in cold weather, you are going to want waterproof hiking footwear. In addition, any hiking done through a lot of water calls for waterproof shoes.
The purpose here is to keep your feet completely dry. This hiking footwear is perfect for anyone wanting to stay seriously dry while getting support.
2. Merrell Moab 2 Waterproof (Men and Women)
One of the most popular low-top hiking shoes is the Merrell Moab 2 Waterproof. This shoe offers an extra wide toe box, and wide size. These water shoes are great for those with bigger feet. The Merrell Moab 2 is available for both men and women.
Check current price on Amazon: Men's or Women's
In terms of waterproofing, the answer is in the name. The upper of the Moab 2 is made of mesh and suede leather. The sole is synthetic and features a Vibram grip. This ensures you won't slip while you are hiking through the creek bed.
Since this is a hiking shoe, it does offer more support than the previous trail running footwear. The Moab 2 includes a nylon arch shank as well as EVA to increase stability. For comfort, this shoe features the signature Merrell air cushion.
4. Keen Targhee II (Men's or Women's)
Another frequently seen low-top hiking shoe is the Keen Targhee II. Keen has made a name for itself in the world of the best shoes for hiking in water.
The Targhee II is great for those who want extra support, especially around the ankle. In fact, this shoe offers up to an inch of more ankle support than other low top hiking footwear.
Check current price on Amazon: Men's or Women's
Additionally, the Keen Targhee II offers more toe protection than other hiking footwear. The rubber outsole wraps up and around the front and even over the top of the footwear. This will keep even the top of your toes safe from jagged rocks.
The upper is made from leather, and the sole is rubber. There is even extra tread, as well as an additional waterproof outer membrane. The outsole is lugged to ensure great gripping. These shoes weigh 15.4 ounces.
Amphibious Shoes (Water Hiking)
Amphibious shoes are the kind of shoes you are going to want hiking through streams or creek beds. Additionally, you don't have to wear socks with these shoes for hiking in water. In fact, you shouldn't.
With completely bare feet amphibious shoes are designed to drain water so your feet stay comfortable. They are basically sandals with more protection. In fact, protection is key with these shoes.
Walking through water all day usually means dealing with whatever is lurking beneath the water. That could be rocks, sticks, fish, and other debris you don't want to mess around with.
Amphibious shoes solve this painful problem typically encountered by those that wear water sandals. They offer extra rubber on the toe box so you don't have to worry about hurting your little piggies on anything. This type of shoe is best worn in warmer conditions.
4. Merrell All Out Blaze Sieve (Men and Women)
Is it a sandal? Is it a shoe? Well, the Merrell All Out Blaze Sieve is a little bit of both. It is also one of the best shoes for hiking in water.
Check current price on Amazon: Men's or Women's
This amphibious footwear has openings along both sides to allow water to flow and keep larger debris out. There is also an opening at the heel to allow for maximum water drainage.
While some sandal type water shoes are open toed, the Merrell All Out Blaze Sieve is not. This is great, because it will save your toes from pain.
These Merrells are made of leather with a synthetic sole, and only weigh 1.5 pounds. The waxy leather material of the upper shoe has natural water shedding properties. You can use this shoe in both the approach to the water and in the water. This footwear is made for both men and women.
5. Keen Newport EVO H2 Hiking Shoe (Womens)
The Keen Newport EVO H2 Hiking Shoe is the closest amphibious water footwear to an actual sandal. Called an open shoe, this Keen will provide excellent drainage for those hiking through a lot of water.
The toe covering is made of sturdy rubber, so your toes don't get hurt on the trail.
Check current price on Amazon: Mens or Womens
In terms of materials, the EVO H2 has both synthetic and leather parts. The synthetic makes your open shoe lighter and dry faster.
The leather parts are there to ensure water rolls right off the top of your Keens. These shoes are made for both men and women, and are available in wide and regular.
Canyoneering Shoes (For Water)
Footwear made for canyoneering excels at many things that make it one of the best shoes for hiking in water. Canyoneering is a sport that combines many other sports. Think of a kind of triathlon of outdoor activities.
Some of the most important details are keeping your feet dry, climbing up rocks, and repelling off cliffs. Even though we are only talking about the best shoes for hiking in water, canyoneering shoes fit the bill. These are especially great for anyone that is nervous about getting his or her feet wet in water hiking.
The bottom of the footwear is made of a grip that climbers trust. Additionally, canyoneering shoes offer thick protection from elements such as rocks and other underwater surprises.
Finally, this shoe is extremely waterproof. You can wear it anywhere for almost any outdoor activity. The only downside is getting used to the high top and heavier weight. However, once you do, you will find you don't need any other shoe for ankle stability, dry feet, or a slip-less grip.
6. Clorts Hiker GTX Shoe (Men's and Women's)
This canyoneering shoe is one of the best shoes for hiking in water. The Clorts Women's Hiker GTX Shoe is so good you can use it for getting deep into wet canyons. Although not as visually appealing as some of the rest, this footwear will keep your feet dry and healthy in even the wildest of waters.
Check current price on Amazon: Women's or Men's hiker.
When hiking through rivers or other fast-moving bodies of water, this is phenomenal footwear. The grip is multi-directional, skid-proof, and guaranteed to grip the wettest of surfaces.
In addition, the upper is made of 40 percent mesh to allow water to easily flow through. The other 60 percent of leather is waterproof. Additionally, there is a shaft included that measures from arch to mid for added stability.

Keep Your Feet Dry and Get Hiking!
We hope this guide will help you decide on the best shoes for hiking in water for your unique circumstances.
In fact, there are many factors to take into account when shopping for water footwear. It is important to consider your own individual preferences in addition to your foot's needs.
Let us know what conditions you hike in and what footwear works best for you by joining us in the comments.
About the Author
Latest Posts
Bryan Haines is a co-founder and blogger on GudGear – and is working to make it the best resource for outdoor gear and guides.
He loves the outdoors and has hiked the Andes, kayaked the Galapagos, and biked and camped around Nova Scotia, Canada.
He is a travel blogger at Storyteller Travel and blogs about photography at Storyteller Tech. He is also co-founder of Storyteller Media, a company he started with his wife, Dena.