There's nothing like the great outdoors. Camping gets you out of the house, out of cell service, and away from your shower. How will you stay clean? In this post, you'll learn how to shower when camping.
To shower while camping, you can use the campground's public showers if available. Or you can purchase a solar camp shower and get clean on-site. You can also bathe in the lake or waterfall. If these aren't available, you can take a sponge bath, have a baby wipe wipe down, or use dry shampoo.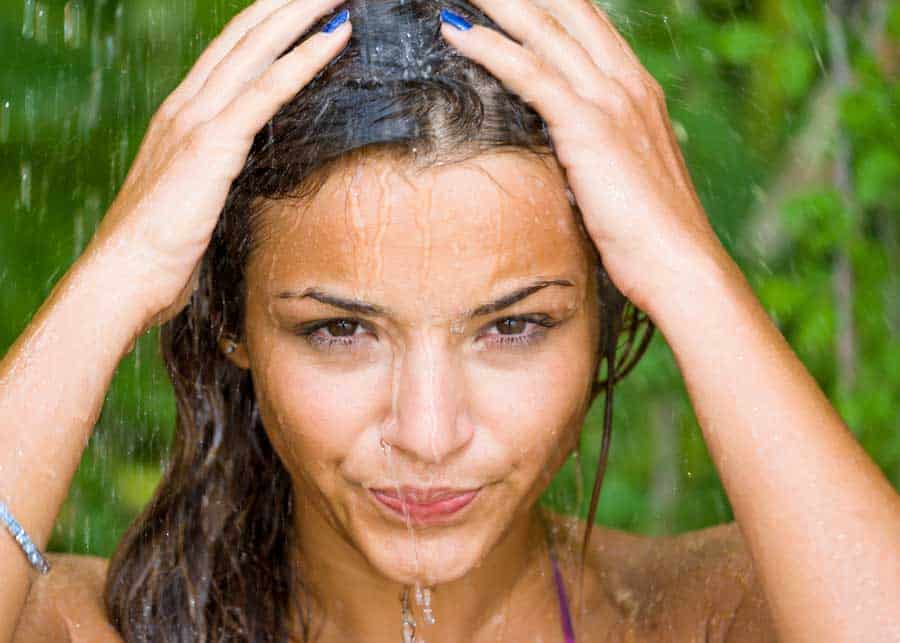 While many people don't mind the dirt, grime, and sweat that comes along with an old-fashioned camping trip, some aren't too fond of leaving behind the everyday practice of a hot shower.
To know how to shower when camping, keep reading. You'll learn about how (and where) to shower on your next camping trip.
1. Use Public Showers
Public showers – who ever heard of such a thing? Public showers are more common than you might think, you just have to know where to look.
You can start by looking for campsites that have public showers in their restroom facilities. You may have to pay a little more for these campsites or even pay per use, but they are usually right on-site, just a short walk from your tent.
You can also use nearby public shower options, including truck stops and public beaches. Lots of truck stops have shower facilities, and most public beaches have shower stations. You can grab a swimsuit and some soap and wash up there.
When to Use Public Showers
Because other campers probably have the same idea, you might need to choose a less busy time to get clean.
Here's when I've had the most success finding an available public shower.
Best Times: I've had success before 7 am and mid-afternoon for less busy campground showers.
Worst Times: The busiest times seem to 8 to 10 am and in the early evening. Of course, if it's a cold, rainy day – all bets are off. Cold campers will want access to hot showers.
2. Invest in a Camping Shower
We're treading into glamping territory now, but if a shower is a camping dealbreaker, then a camping shower might be a good investment.
Camping showers come in all shapes and sizes. There are several options on the market, starting with what is essentially a water bag with a shower hose attached.
Other systems include a pump that sits in a water source and runs water through a showerhead.
This camp shower bag is heated by the sun and holds 5 gallons. It can heat to 110°F (43 °C) in just 3 hours of direct sunlight.
Some systems are very minimal, while others are more sophisticated with automatic pumps and heaters.
You can choose to grab a pop-up privacy tent for full coverage or do it the old-fashioned way in a bathing suit.
3. Go All-Natural: Lakes and Waterfalls
The best campsites sit near natural bodies of water, including lakes, rivers, and ponds.
If you're extra lucky, you might even have access to nature's shower – a waterfall.
A quick and easy way to wash up is to use one of these water sources for a quick rinse.
You can bring with you any supplies you need – so long as they are eco-friendly. Invest in some camping soap and shampoo and take a dip in one of the nearby lakes.
4. Use Your RV Shower (Indoor / Outdoor)
If you rent an RV, the odds are that it comes with a standup shower inside. And it will probably be heated on-demand by propane.
And some RVs come with an outside shower nozzle. This is great for rinsing off after coming back from the beach. Or for washing off the mud from a rainy day trail ride.
Here's more about using your RV water heater. And how to refill your freshwater tank while camping.
5. Take a Quick Sponge Bath
You may not have access to a lake or shower equipment, but a good camper always has plenty of water. One of the most basic camp showers is the sponge bath.
Use any small bottle or container of water, a little soap, and a sponge to quickly scrub your body down.
This conservative method ensures you don't waste a ton of water. You can hit all the dirtiest, smelliest spots and rinse off with small amounts of water.
6. Use Dry Shampoo in a Pinch
While not technically a "shower" using dry shampoo will refresh your hair and help feel much cleaner.
This dry shampoo by Klorane is made for all types of hair and doesn't leave a residue.
7. Use the Household Product Method
Did you know several common household products can help you fake a shower until you can take a real one?
Using these products can help cut down on grime and keep your pack light. Add these items to your packing list:
Baking soda
Apple cider vinegar
Olive oil
Baking soda is ideal for greasy hair. Sprinkle some on your head and massage it over your scalp and throughout your hair. It will absorb grease and odor for a quick, no-rinse reset.
Apple cider vinegar works well as a natural deodorant. Apply it to your armpits to remove dead skin, mitigate odor, and kill bacteria.
Finally, use olive oil on your face and other dry areas of your skin. Olive oil is very hydrating and has tons of vitamins and plenty of antioxidants.
8. Baby Wipe Wipe-Down
Baby wipes have proven to be very useful products even beyond their intended infant care. If you can snag a pack of baby wipes, you won't need another shower option.
Use baby wipes to wipe away dirt, grime, and sweat. They're gentle enough to use on a baby's sensitive skin, which makes them perfect for a head-to-toe wipe-down – even in sensitive areas.
Use as many as you need. Just be sure not to leave any behind in the wilderness.
9 Tips on How To Shower When Camping
As you can see, camping while showering can be as glamorous or as easy as you need it to be.
Here are a few more tips to keep in mind:
Consider what basic gear you need: eco-friendly soap, shampoo, sponge, towel, water source, privacy tent, camping shower, washcloth, etc.
Never use scented products, as they can attract bugs.
Use beach towels or microfiber towels; they dry quicker than bath towels.
Always clean up after yourself, collecting all trash and disposing of it properly.
Use the least amount of water possible in all circumstances.
Bring hand sanitizer to cut down on handwashing.
Wash up in the sun, if possible, to stay warm and dry quicker.
Bring flip-flops or water shoes for any kind of bathing.
Bring your sense of adventure. You might get to shower under a waterfall or on the edge of a beautiful lake.
These skills can be especially helpful when stealth camping.
Final Thoughts
Camping is a wonderful, fun-filled activity, but let's be honest: it can get a little gross and dirty at times.
Learning how to shower when camping can save you some time and energy. As they say, always be prepared, and you'll be just fine.
How do you like to stay clean while camping? I would love to hear your thoughts below!
About the Author
Latest Posts
Dena Haines is a co-founder and blogger on GudGear – and is working to make it the best resource for outdoor gear and guides.
She loves being outside and has hiked the Galapagos, explored the Andes Mountains, and camped and explored her province's backyard.
She also blogs about travel at Storyteller.Travel and photography at Storyteller Tech. Dena is a partner at Storyteller Media, a publishing company she started with her husband, Bryan.